Extra convenience at the StowBox: StowAssist
The StowAssist (ant) helps
The simplest way of self-storage now offers even more convenience. The StowBox, the driving DIY storage box on wheels, is now also available with a 'guy'! StowBox's new service is called StowAssist. This employee will take your StowBox to your address and lend a hand in loading or unloading. Then he takes the box to the storage and you can get on with your activities.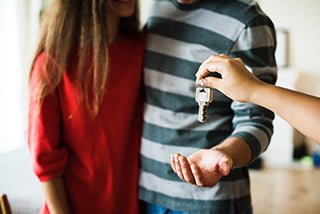 The benefits of the innovative StowBox are proven every day: DIY wheel storage makes temporary storage easy. It is attractively priced and you need to carry much less when moving or storing: the StowBox goes into storage without unloading! And if you need the stuff again later, you will drive in the box from the storage to the final destination. Fewer hands are needed and you are ready in half the time.
The StowBox is therefore the most innovative form of self-storage, through the combination of mobility and storage. But what if you have little time or there are not enough 'hands' available to load stuff into your StowBox? Or if you want to load household goods that are not so easy to pick up with one or two people? If you could use a little help to lift the locker down the stairs without damage?
The StowAssist (ent) offers the helping hand
If you book the StowAssist with the StowBox, your belongings will be in the StowBox in no time, ready for transport to storage. The StowAssist (ant) also takes care of fetch and bring. An additional service that offers the StowBox even more room for removal and storage for a modest additional cost!
The helping hand, at what?
– Pick up your empty StowBox at the storage and deliver it to your address. Handy: the StowAssist (ant) comes with a free moving package with blankets and fasteners.
– Lend a hand in loading/filling the box. This can include boxes, tables, chairs and other easy-to-pick items. If necessary, the StowAssist(ent) can also advise your lugging team to responsibly pick up and load heavier items such as a cupboard or washing machine.
– Properly close and deliver the StowBox at the storage, where your box is immediately put away until you need your stuff again.
– Vice versa, if you want your stuff delivered from the StowBox again: the StowBox comes to you. The StowAssist (ent) helps with the unloading (ground floor).
Energy
Because the StowAssist (ant) helps with loading, your belongings will be in no time – and responsibly loaded – in the StowBox, ready for transport to storage!
Fuel costs
You save two car journeys to and from the bin. After all, StowAssist comes to you with the StowBox. The further away you live from the bin, the more attractive the offer becomes for you.
Lots of time
The StowBox is brought. In the meantime, you can pack up and prepare household goods for transport.
In what situations can you use a StowBox with StowAssist?
– I don't have a driver's license
– I don't have a car
– I don't have a towbar
– I don't like driving a trailer
– I have little experience in moving
– I like to do everything myself, but just miss that second man to help
Per round, that is; pick up StowBox at bin, deliver StowBox to your home, help load or unload, return it to bin.
– 15 km from the Deventer bin: An additional price of € 125,-
– 15-40 km from the Deventer bin: An additional price of € 150,-
– 41-75 km from the Deventer bin: An additional price of € 175,-
– 75 km from the Deventer bin: We would like to help you, but please get in touch.
What do you get for this?
For this amount, the StowAssist (ant) comes with the StowBox, helps you and takes the StowBox back with him. It's an hour and a half for the help. With our instructions taken into account, this is sufficient in most cases. If it becomes more, we will charge you € 15 per extra quarter of an hour. The above-mentioned StowAssist prices include transport insurance and a moving package. A moving package consists of blankets, bubble wrap and fasteners.
StowAssist is an additional service that makes it even easier to load and store your belongings in the StowBox. It keeps the middle between really do-it-yourself moving and hiring a professional moving company. A StowAssist is therefore not equated with hiring a moving company.
That is why we have clear rules of the game.
– White goods and electronics must already be disconnected and ready for transport at the start of loading of the StowBox.
– You move goods through StowAssist, which you would also entrust to a moving neighbour or friend. The StowAssist (ant) is insured, but there is an excess of € 150,-.
– The items to be loaded should be ready as much as possible downstairs and preferably near the door.
– The StowAssist(ent) can of course not carry your stuff on its own; you need to have at least one lugger ready to get the job done. So together…
– In principle, all items should be manageable and portable, if necessary with two or three lugs. Exceptions:
– Additional work – moving on/off white goods (30 min.), only with extra lugger on site).
– If you have items heavier than 50 kilos or larger than 1 m3, please report that s.v.p. in advance. Together with you we discuss a suitable solution, possibly at a modest additional cost.
– We leave the transport of the piano/wings, the men's cabinet, the safe, etc. to professional moving companies. If in doubt, discuss it with us.